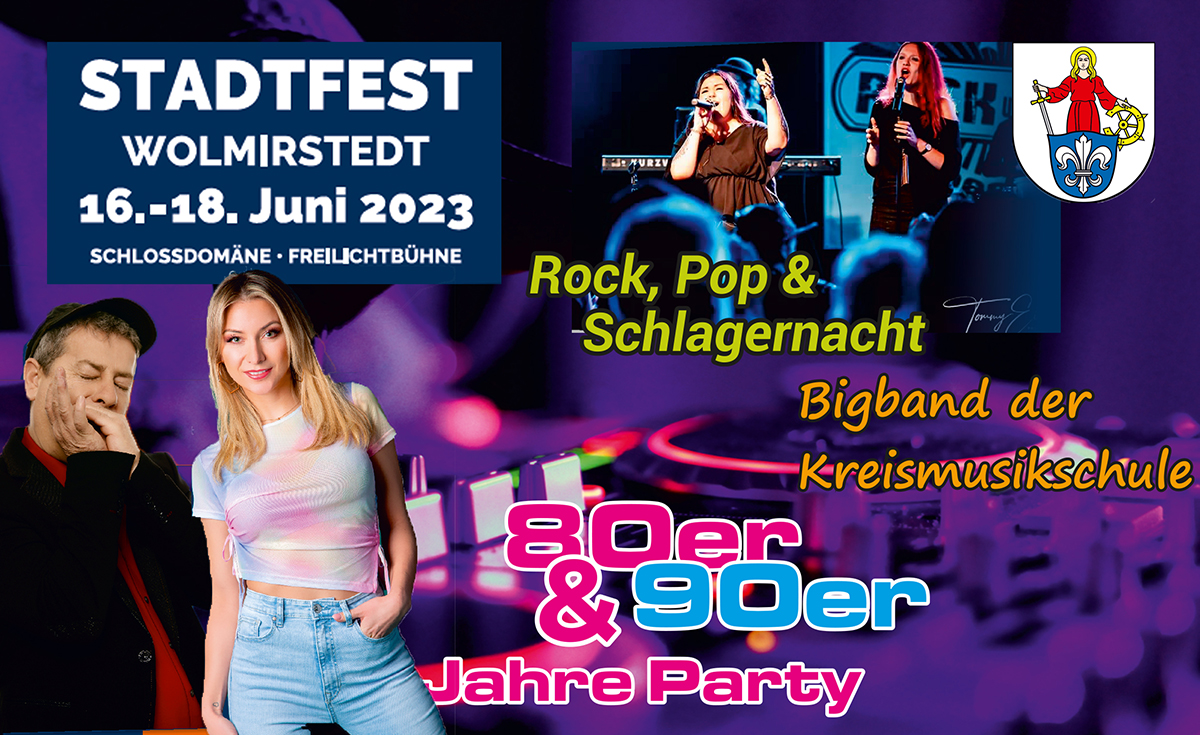 Date
18 Jun 2023
Expired!
City festival 2023
The city of Wolmirstedt celebrates from 16-18 June 2023 on the castle domain and the open-air stage
stadtfest-flyer

Hourly Schedule
Sunday, 18.06.2023
11.00

-

13.00

Wolmirstedt battle of the clubs, open air stage

A colorful spectacle with clubs, mayor & city councilors! Musical accompaniment Taiko drummers
14.00

-

18.00

.. singing, dancing, laughing at the Ohre ..., open-air stage

The show for the whole family! Anna-Carina-Woitschek, Choir Kolorit, Wolmirstedt Joint Choir, OK Live Ensemble
13.00

-

14.30

Children of Wolmirstedt daycare centers and elementary schools

present a colorful program on the stage castle domain
16.15

-

17.15

Bigband of the district music school

on the stage castle domain
Sunday, 18.06.2023 - Supporting program
11.00

-

18.00

Puppet theater Woitschak, fairground castle domain

Program with changing fairy tales
Associations and tradesmen present themselves
11.00

Wesemann showman park

with various carousels & rides, bumper cars, etc., crepes, ice cream and cotton candy.
14.00

-

17.00

City festival rally for kids 3 to 12 years old

Start at the library