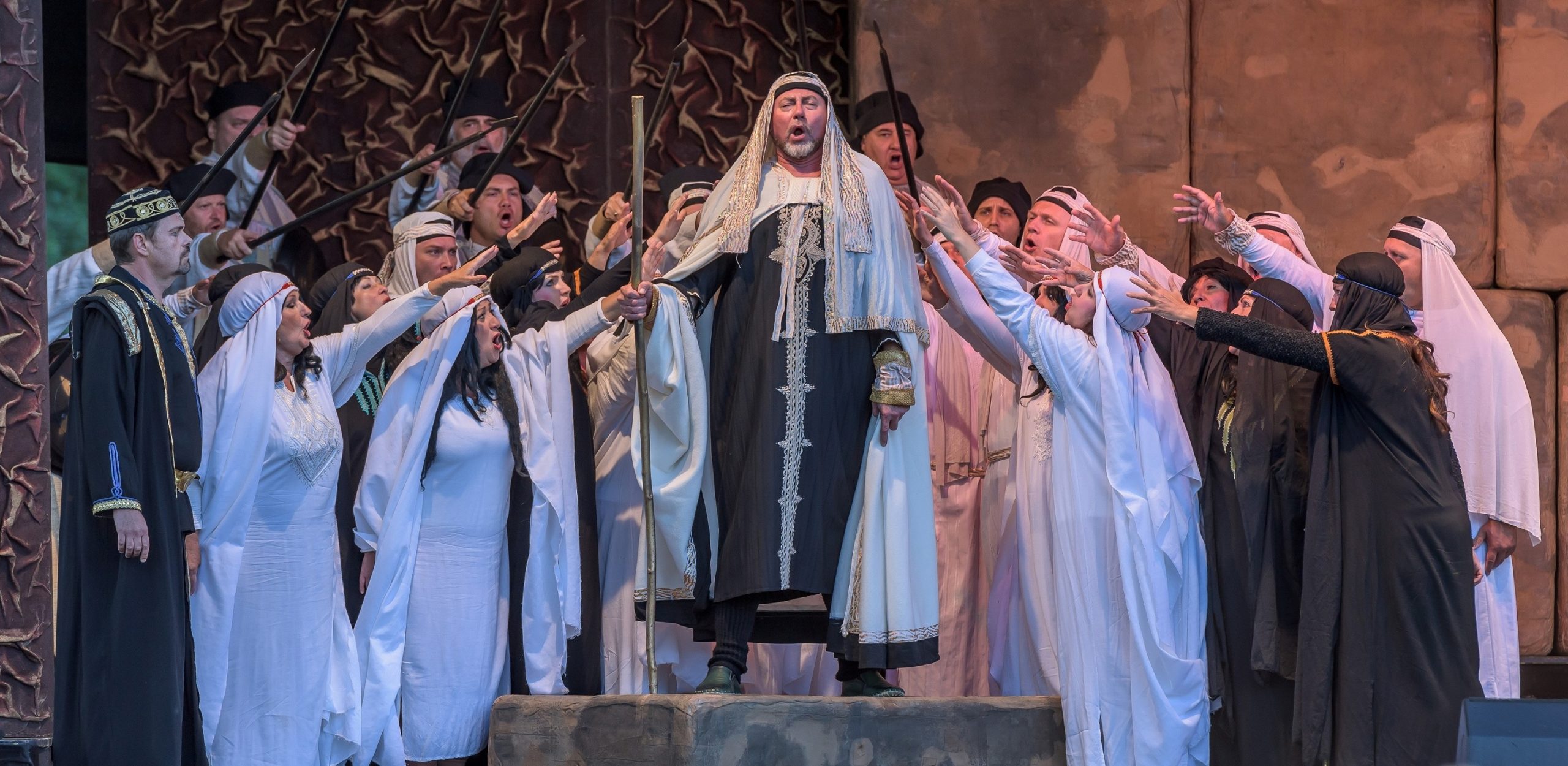 Date
16 Aug 2023
Expired!
Nabucco – Classic Open Air 2023
This splendid opera with its dramatic play about love and power has so far thrilled hundreds of thousands of spectators. The visitor is captivated from the beginning by the beautiful voices, the plot, the magnificent costumes and the impressive stage design. With Giuseppe Verdi's NABUCCO, one of the greatest operas in the history of music and at the same time a wonderful open air spectacle awaits the classical music visitor.
One must have experienced NABUCCO with the world-famous prisoners' chorus at least once in the open air and in a grandiose production. The mighty chorus of prisoners will resound with an array of sonorous and multi-faceted singing soloists. Open air productions represent a special artistic challenge for every opera ensemble. Here, the performance and the ambience of the venue must be combined to create an unforgettable opera spectacle. Singers, orchestra, direction and technology have to adjust to the atmospheric and acoustic conditions of each venue anew. The opera has succeeded in this brilliantly in its previous summer open-air performances, which have attracted more than 2 million spectators.
Overview of the work: The basis of the opera is the libretto by the Italian Temistocle Solera (1816-1878). The plot draws on legends about the biblical ruler Nabucco (Eng: Nebuchadnezzar II), king of Babylon from 605 to 562 BC. Buildings such as the Ishtar Gate, the Hanging Gardens and the Babylonian Tower are associated with his reign. The background of the opera's plot is the conquest of Jerusalem in 587 B.C. and the leading away of the Jewish people into Babylonian captivity in 586 B.C. (2 Kings 25). The libretto takes only a few motifs from it. The plot consists of four acts.
Giuseppe Verdi – The person: Giuseppe Fortunino Francesco Verdi was born on 10.10.1813 in Le Roncole near Parma. As the son of an innkeeper, he came from humble beginnings. Nevertheless, his father showed understanding for his musical inclination and gave him to the village organist. At the age of twelve he attracted the attention of Antonio Barezzi, a wealthy merchant from Busseto. The latter took him in and gave him musical training. He continued to promote Verdi, as the latter did not receive a scholarship from the conservatory. This enabled Verdi to complete his studies with Paisiello's pupil Vincenzo Lavigna (1776-1836). Since 1836 as "Maestro di Musica" back in Busseto, Verdi married Margherita Barezzi, the daughter of his patron. In 1839 he began his career as an opera composer with Oberto, conte di San Bonifazio at La Scala in Milan. What followed was the biggest crisis of his life so far. His two children and his wife died by 1840. His second opera, Un giorno di regno, was a flop. Verdi despaired of himself and initially accepted no further commissions from La Scala. It was not until 1842 that his next work, Nabucco, appeared and immediately became a resounding triumph. Verdi, himself an ardent supporter of the "Risorgimento," the Italian unification movement, had hit the lifeblood of the Italians. The famous prisoners' chorus, Va, pensiero, sull' ali dorate (Fly, thought, on golden wings), immediately became the secret national anthem. In the following eight years Verdi created further patriotic operas, I Lombardi, Ernani, I due Foscari and Macbeth , all of which were very successful. Verdi was now so wealthy that he was able to buy an estate in Sant' Agata, his preferred residence from then on. His name already served the Italians at that time as an abbreviation of the slogan "Vittorio Emanuele Re d'Italia", "Victor Emanuel, King of Italy". Verdi had been living with the singer Giuseppina Strepponi since 1847, whom he married in 1859. Giuseppina had sung the part of Abigail in the 1842 overture of Nabucco. Verdi's second creative period began in 1851 with Rigoletto. Now he created his most popular works to this day: Il Trovatore, La Traviata and I vespri siciliani . Verdi took a creative break in 1860/61, the years of Italian unification. He became a deputy for Busseto in the regional parliament of Parma, was received by the king and attended his coronation as the first king of Italy. Again followed an intense creative period in which such important works as La forza del destino, Don Carlos Aida emerged. But after 1874, Verdi retreated completely to his country estate for many years, disappointed by Italy's social stagnation after unification. It was not until Otello and Falstaff that he achieved two very mature works for his old age. When his wife Giuseppina died, Verdi's will to live died out. Sick, he moved to Milan, where he succumbed to the effects of a stroke on January 27, 1901. Over 300,000 people from all over Europe attended his funeral. Arturo Toscanini conducted a choir of 900 singers as a final salute with the famous chorus from Nabucco: Va, pensiero, sull' ali dorate. (1865)