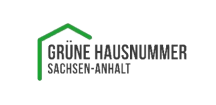 On Friday, February 24, 2023, a "Saxony-Anhalt Green House Number" was handed over to Wolmirstedter Wohnungsbaugesellschaft mbH (WWG). The multi-family house at Samsweger Strasse 60 received the award, and WWG managing director Klaus Jaenecke can now look forward to a custom-made enamel house license plate for the building's entrance. The house number and a certificate that was also presented are intended to recognize WWG's commitment to energy-efficient renovation.
The excellent building includes a total of 16 residential units. In 2022, a complete refurbishment to KfW Efficiency House 70 was carried out, for which WWG has now been awarded the Green House Number. The property also houses the new headquarters of Wolmirstedter Wohnungsbaugesellschaft.
The "Green House Number" was presented today by the State Secretary in the Ministry of Science, Energy, Climate Protection and the Environment of Saxony-Anhalt, Thomas Wünsch, the Director of the Saxony-Anhalt Housing Industry Association (VdW), Jens Zillmann, the Vice President of the Chamber of Engineers, Prof. Westermann, Ms. Gebhardt from the Saxony-Anhalt Chamber of Architects as well as the Deputy Mayor Marko Kohlrausch and the Managing Director of the Saxony-Anhalt State Energy Agency (LENA), Marko Mühlstein.
Energy State Secretary Thomas Wünsch: "Investments in energy-efficient refurbishment pay off several times over: If you modernize your house accordingly, you save money, protect the climate and increase the value of the property. In the building sector, the heat revolution must be vigorously pursued in order to significantly reduce CO2 emissions and achieve our climate targets. This makes it all the more important that commercial landlords like Wolmirstedter Wohnungsbaugesellschaft in particular successively make their building stock more energy-efficient and thus fit for the future."
"We are delighted to be able to award a Green House Number to the third commercial building owner in Saxony-Anhalt – after all, the housing companies in the state are playing a key role on the road to a climate-neutral building stock," emphasizes LENA Managing Director Marko Mühlstein. "We hope that many more such successful examples from the housing industry will follow," says Mühlstein.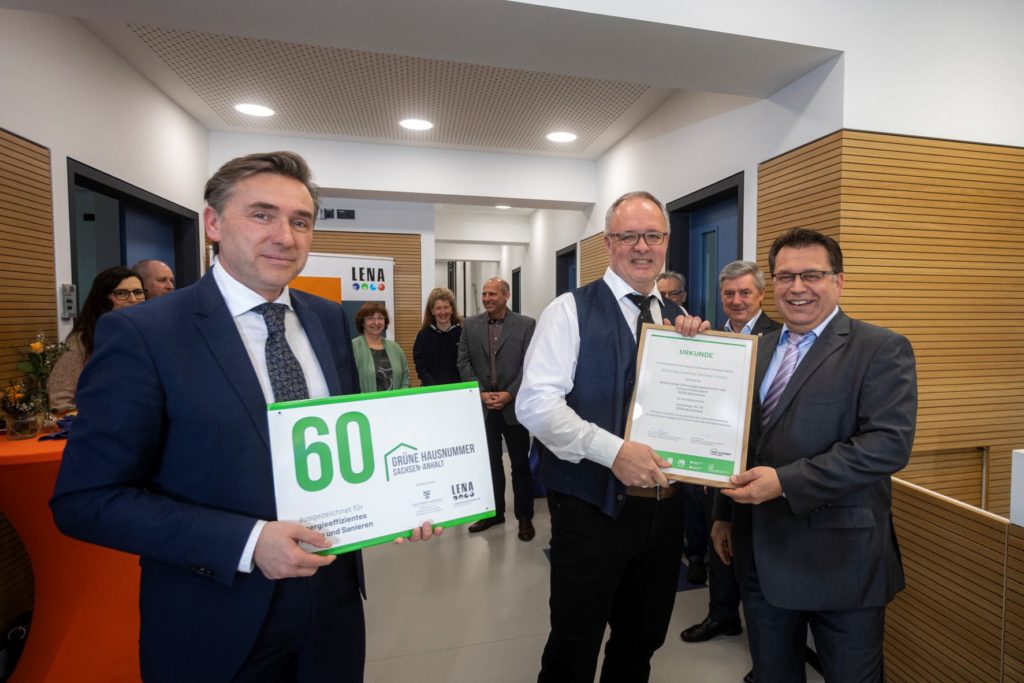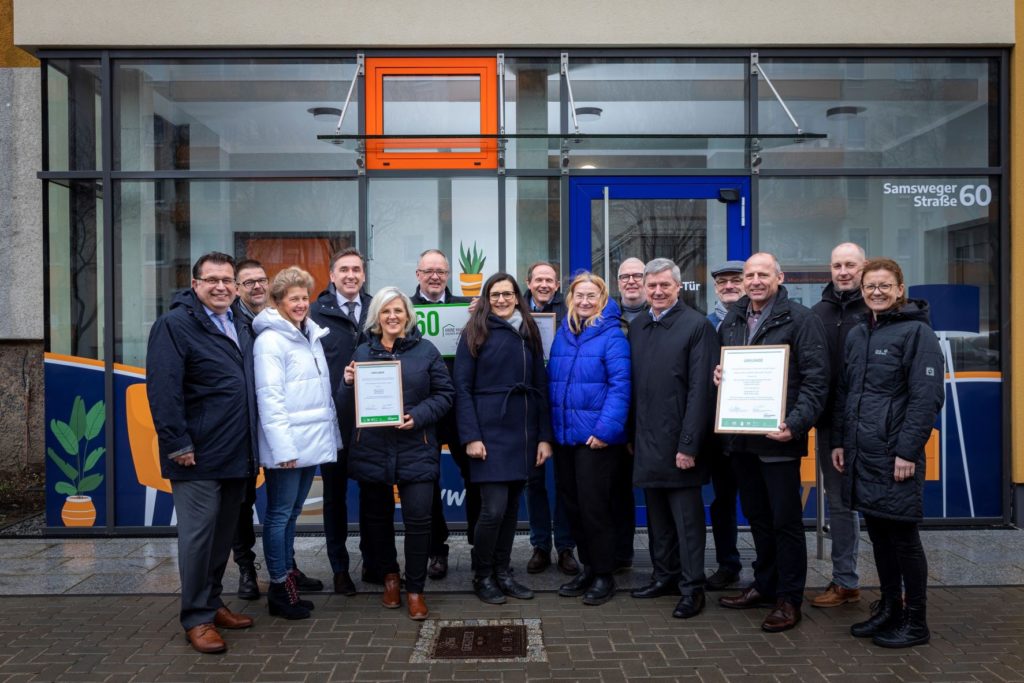 Background to the "Saxony-Anhalt Green House Number" award competition
The award competition for the "Saxony-Anhalt Green House Number" and the "Saxony-Anhalt PLUS Green House Number", launched by the Landesenergieagentur Sachsen-Anhalt GmbH (LENA), started in November 2017 and recognizes building owners who have renovated or built in a particularly innovative, energy-efficient, sustainable or healthy way after December 1, 2009. Since 2021, the competition is no longer aimed exclusively at private, but also at commercial owners of residential buildings. All applicants who meet quality criteria checked by a jury will receive a custom-made house license plate.
Wolmirstedter Wohnungsbaugesellschaft mbH is the third commercial owner in Saxony-Anhalt to be awarded a "Green House Number". Overall, today's award is the 35th award since the competition began. For all information on the competition and how to apply, visit www.gruene-nummer.de.